FyreChat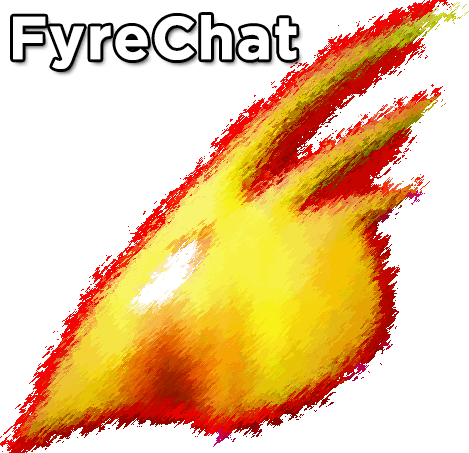 FyreChat is a Binary Chat application developed from FyReBoT source. The application provides an easy to use interface to connect to battle.net emulating a Blizzard client.
Features:

Version History:
2.1 build 9 (23 August 2012)

Added BNCS (C/S 0x55, 0x56) and BNLS (C/S 0x05, 0x06) packet handling for password changes.
Added command /changepassword to change passwords on NLSv2 (WAR3/W3XP)
Temporarily added boolean to check if web channel list had been changed. Removed.
Added check for if BNCS 0x0B channel list is empty, if so: resends 0x0B.
Fixed failed BNLS 0x11 on asia.battle.net servers. Needed to be "00" for IPs with "0"
Updated Create StarCraft Games to closer match client and added WarCraft II creation as well.
Fixed browsing for maps in StarCraft/Warcraft game creation window.
Fixed bug with minimizing to system tray.
Released to public (08-24-12)

2.1 build 8 (21 August 2012)

Added command /botnews. Retrieves news from FyreChat website.
Fixed bug with client not reconnecting after creating a new account.
Added account creation under WAR/W3XP.
Fixed some typos and colors of text.
Added new option to hide displaying of Server Types in chat (BNCS, BNLS, etc…).
Cleaned up BNCS code.
Restructured BNLS code.
Temporarily added BNLS (0x0A) to confirm BNCS (S 0x54) proof. Removed. BNLSWarden doesn't support?
Added BNLS (0x11) verification of server IP and signature from BNCS (S 0x50) – only WAR3/W3XP
Download:
Required Files:
Visual Basic 6 Runtimes
Visual 7 Runtimes (plugins)
msinet.ocs (weblist)
Install:
Make sure to install the required files first before attempting to run FyreChat.
Extract all files downloaded zip to a folder.
Execute the FyreChat.exe application.
Open the Configuration and fill in your information.
Select your product you wish to log on with and it's CDKey
Click connect
Plugins:
FyreChat supports the use of BCP plugins developed by Skywing.  The following is a list of recommended plugins.
Aliases.bcp By Yoni

Allows you to create your own aliases for commands, or create chat-shortcut commands.
AlwaysOnTop.bcp By Spht

This plugins creates a "Window" menu from which you can toggle the bot being displayed on top of other windows at all times, even when it loses focus.
Trivia.zip By Spht

Loads trivia questions and keeps track of user scores. /trivia on|off|auto.
WinampControl.bcp By UserLoser

Allows you to control Winamp through the bot. Commands: /play, /stop, /pause, /next, /back, /sop, /eop, /volup, /voldown, /rewind, /forward, /closewinamp, /songinfo, /sendsonginfo.
BNLS/JBLS Server:
Run your own server! (These include hashes)
Images:

Product Testing:

Project Sitemap: